Earlier today I stumbled upon this brilliant 6-minute short that is hard to put into words for a review. It simply has to be experienced!
The Academy-Award nominated animated short-film tells the story of a lonely inventor, whose colorless existence is brightened only by dreams of the carefree bliss of his youth.

By day, he is trapped in a dehumanizing job in a joyless world. But by night, he tinkers away on a visionary invention, desperate to translate his inspiration into something meaningful.

When his invention is complete, it will change the way people see the world. But he will find that success comes at a high price, as it changes himself, as well.
Liked MORE? Check out www.happyproduct.com or YouTube's Screening Room for more short films.
14 comments | Add yours! | Permalink |
When it comes to translating your business name into another language, it's best to double-check with someone first. Especially if you're using web-based translators!
Via: AdFreak
3 comments | Add yours! | Permalink |
Remember what your old 56k modem used to sound like? Well, now we know where it came from...
4 comments | Add yours! | Permalink |
What's the secret of happiness? Money.
Or rather, giving money away.
An experiment was carried out in the University of British Columbia (UBC) in Canada where 109 students were given envelopes containing $5 or $20 bills. Half of them were instructed to spend it on themselves, while the other half were told to spend the money on others (buying things for friends, or donating to charity).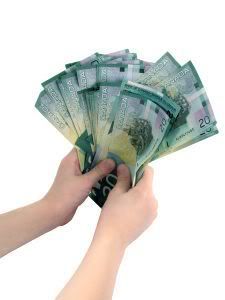 At the end of the day, participants who spent money on others, reported feeling happier!
The experiment was repeated on 16 employees at a firm in Boston, and on 632 people across the United States. The results were similar - spending money on others generally made people "happier", regardless of their income levels.
This result defies conventional economic theories, but it's an interesting model that should be looked at on a larger scale. Does it work in other countries, with different cultures, habits and beliefs? How about giving time to others instead of money? Is there a threshold in which the theory breaks down, ie people who earn a minimum or maximum of X amount of money?
Further reading available at Science Magazine and the official UBC website.
Add your comment | Permalink |
I finally had a chance to catch up on the stack of unwatched DVDs at home over the weekends, and when I picked up Evan Almighty, (wiki) my decision was made. After all, I've been a fan of Steve Carell since his Office days as the awkward and ego-centric boss Michael Scott.
The movie itself was alright - some bits of slapstick comedy and a simplistic storyline. It doesn't stand out as a classic, but doesn't sink in as unfunny either.
However, there was one good scene that really resonated with me.
In the scene, Joan, the protagonist's wife who had left him, revealed her troubles to God (played by Morgan Freeman) who had presented himself as a waiter at a restaurant. To which God gave her this memorable reply:
"Let me ask you something. If someone prays for patience, do you think God gives them patience? Or does he give them the opportunity to be patient?"

"If they pray for courage, does God give them courage, or does he give them opportunities to be courageous?"

"If someone prayed for their family to be closer, you think God zaps them with warm, fuzzy feelings? Or does he give them opportunities to love each other?"
Add your comment | Permalink |
Japanese firm D-Barcode applies its creative touches to the ubiquitous product barcodes and came up with a series of lovely, eye-catching and even hilarious masterpieces.
And yes, in case you're wondering - they do work like real barcodes and are applied on products in supermarkets.
I really admire the amount of thought and effort put into something so small, simple and insignificant to the human eye. But then again, that's what separates good design and great design, right? The smallest little details!
Read the original blog coverage here.
Via www.reddit.com
Add your comment | Permalink |
I'd always been a sucker for creative advertising - especially those in print as they seem to narrate their ideas very well through non-moving visuals. This website showcases an interesting selection of print ads, some of which I thought were very brilliantly conceived. Enjoy!
Via: www.kottke.org
Add your comment | Permalink |
Alec Baldwin gives a hard-hitting sales talk in this 7-minute clip from the movie "Glengarry GlenRoss" (IMDB). I've not actually seen the movie yet, but this talk is surprisingly good and contain several gems of quotes worth listening to!
In the clip, Baldwin's character, Blake also rounds up some familiar sales terms - ABC - "Alway Be Closing" and AIDA - "Attention Interest Decision Action". And the all important keyword of sales - CLOSING!
Worth a watch, if just to spice up your confidence and motivation for your next pitch.
Warning: Contains not-safe-for-work (NSFW) language!!!
Via MIXX
Add your comment | Permalink |
The name Tetris really needs no introduction, as most of us probably grew up on its video game. But have you ever seen it being played by the world's fastest player? The video's 6 and a half minutes long, but you can forward it to the 5-minute mark and see it being played at its most breathtaking pace.
Add your comment | Permalink |
Many of us grew up on a steady dose of Lego, the ubiquotous little bricks that stretched our young minds to anything imaginable. These series of print ads captured that concept perfectly, as it shows us what Lego looks like from the kids' point of view!
Source: the Whatever Blog, via Digg
Add your comment | Permalink |